SEO and Digital Marketing for Jewelry websites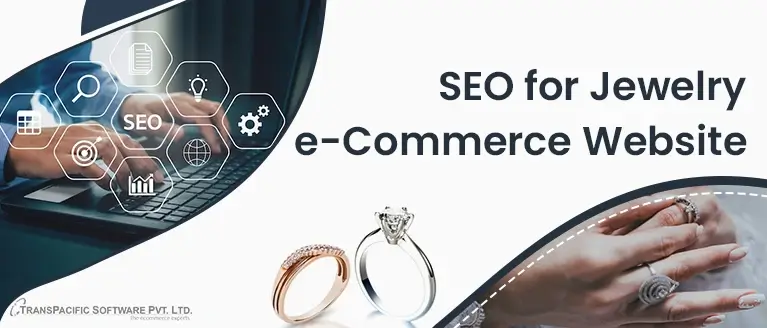 We start from the basics. Here is the stepwise process
Step 1: First things first
We ensure that website is in perfect order, with no errors. It's fast and scores well on the Google page speed test. It further needs to be responsive and look good on all browsers and all devices.
Step 2 Research:
With your help, we Identify your Geographical region for business, top jewelry keywords and your competitor.
We research your website traffic on Google Analytics and the webmaster console. Identify the conversion funnels.
Client interviews are an integral part of the content generation in TransPacific Software's ' SEO strategy
Step 3: On-page technical
Writing meaningful full product descriptions is important. Product info should be low on fancy adjectives and more on the information.
for example.
Fancy description with no SEO :
stunning. elegant ring with a beautiful priceless diamond.
 SEO-friendly meaningful description : 
18K Rose Gold Halo engagement ring with round brilliant cut side diamonds
Step 4: Advance SEO
It consists of embedding rich snippet Microdata OG tags or JSON-LD data on the website. Also checking for any Toxic links and taking corrective action. Identifying pages with low text/Html ratio.
And most importantly identifying content that is devoid of any gibberish information
Step 5 Quality Content Building
Quality content is an absolute must. The content should be informative, deep, and written with the aim to educate visitors and not for search engines. We have specialist writers who not only research topics but interview our clients to get info. The posts are published in the Blog embedded within the website. If you don't have a blog we help you create a BLOG functionality on your website. Apart from Blog posts, we will also create educational pages, FAQ pages, etc. for your website.
Step 6 Social Media Management
Managing social media including FB, Instagram, and Google Plus (Twitter not included) is part of social media marketing and Brand awareness. It may not bring direct benefit to SEO but does help to bring in more traffic to the website.
Posting on social media needs to be meaningful, optimally timed, and with good quality visuals. Only after clients' approval, social media posts are released.
Costing Ongoing work
TransPacific's SEO services start from $2500/month and need a binding contract of at least 4 months
We keep monitoring your website using multiple tools including Google Analytics, webmaster tool, Semrush, MOZ, and so on.