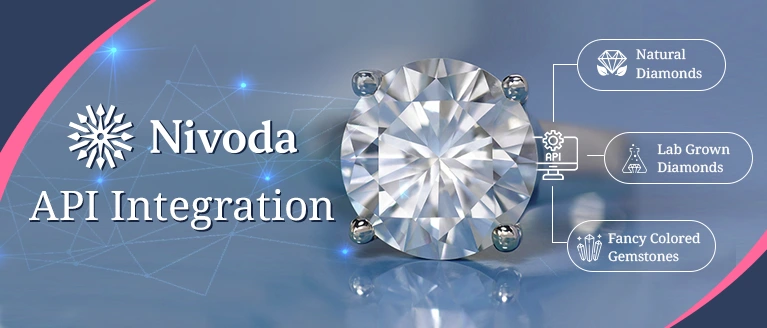 Three Compelling Reasons to Integrate Nivoda API
Advantages of Nivoda:
Nivoda has over 1.6 million Lab and Natural Diamonds listed, which are not only of higher quality but also offered at more affordable prices. This advantage is due to Nivoda's strong relationships with international suppliers, something that independent retailers often struggle with.
End-to-End Logistics:
Let Nivoda handle end-to-end logistics for you. When you purchase stones from various suppliers, Nivoda takes care of everything else. This includes quality control, consolidating your invoices and payments (without the need for currency exchange), providing real-time updates on the delivery of your stock, and even managing returns.
Seamless Integration with Nivoda's GraphQL API:
Seamlessly integrate Nivoda's GraphQL-based API directly into your jewelry website. With the help of TransPacific Software, you can integrate Nivoda's API, which includes dozens of supplier feeds with standardized diamond images and videos, onto your jewelry website. You can also customize the markup. By using Nivoda's GraphQL API, you can automate tasks such as placing holds or orders and receiving updates on your orders.
Accessing Nivoda Feeds:
You can access Nivoda feeds in various ways:
Receive or retrieve a CSV or XML file from an FTP server.
Download a CSV or XML file through a link.
Access real-time inventory through a GraphQL (JSON) API.
Nivoda API Integration by TransPacific Software:
TransPacific Software specializes in integrating Nivoda's API and is listed as an official integrator. TPS can integrate the live Nivoda feed into your jewelry website, customizing the theme and user interface to match your brand. This integration allows your website visitors to directly purchase diamonds from your website. TPS has successfully implemented this solution on multiple e-commerce platforms, including Shopify, WooCommerce, WordPress, Magento, Opencart, PrestaShop, and Bigcommerce.
Successful Integrations
Here are some live jewelry e-commerce websites where Nivoda API has been successfully integrated: