Integrating "IDEX Online Diamond Exchange API" in the Jewelry e-commerce website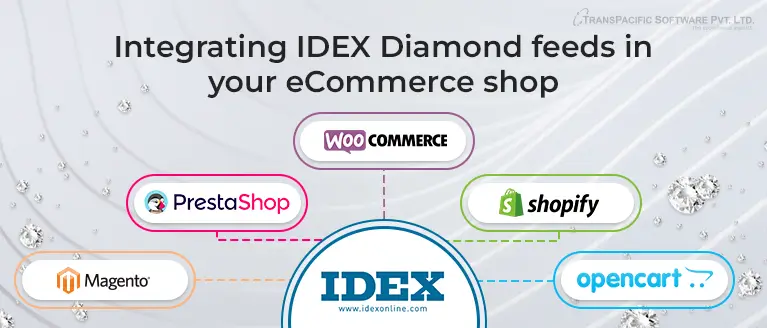 TransPacific Software are specialists in Integrating IDEXOnline (International Diamond Exchange) XML / JSON / CSV format diamond data in Magento, Shopify, OpenCart, WooCommerce, WordPress & PrestaShop with automated updates of data daily.
IDEX (International Diamond Exchange) is a leading B2B online Diamond and jewelry Exchange for Buying/selling diamonds and jewelry. It also has a NEWS section and a active community for interacting with the international Diamond and jewelry trading fraternity.
To all the trading members of IDEX; a database of tradable diamonds is available for CSV download. The CSV contains a complete list of Diamond attributes including carat, Cut, clarity, Diamond Certification ( GIA, EGL , HRD), pricing, polish symmetry, grading, supplier contact details, etc.
Integrating IDEX feeds: How does the process work?
We have developed a framework and Python-based engine which we customize as per your needs to be deployed on your website for Diamond listing and trading
This is how the process works
XML / CSV / JSON file containing IDEX Diamond data is auto-pulled to a pre-determined location on the server
The PHP/Python script parses the XML file
Parsed data is inserted into the database of web services, which is built on Python
The web service is further responsible for feeding diamond data to your E-commerce website; 
During Data insert; a mark-up is added either as a flat percentage or with any other formulae as required
The data can be further displayed on the front end in grids with search filters
During the next update, only unavailable data on the IDEX API feed is removed from your website and new data is inserted
Data with the change in pricing etc is updated.
The entire process requires no manual intervention. It works automatically.
IDEX Online Diamonds Integrated eCommerce websites