B2B Market Place for Diamond traders and manufacturers
The TransPacific Software team works closely with Diamond traders to create their B2B trading websites. Both natural diamond wholesalers and Lab diamond manufacturers require a account login -based ecommerce website for trading diamonds within their cohort.
These exclusive B2B platforms list diamonds which can be traded/purchased by only approved members.
B2B diamond trading platforms can help businesses expand their reach by providing access to a global marketplace. Diamond dealers from different countries can connect and trade diamonds.
TransPacific Software also makes RESTful and GraphQL APIs, so that a diamond manufacturer can offer its diamond feeds through an API to a retailer, who can add the markup and then sell the diamonds on its website. Exactly similar to Rapnet or Nivoda but for a group or community of diamond traders with customised features.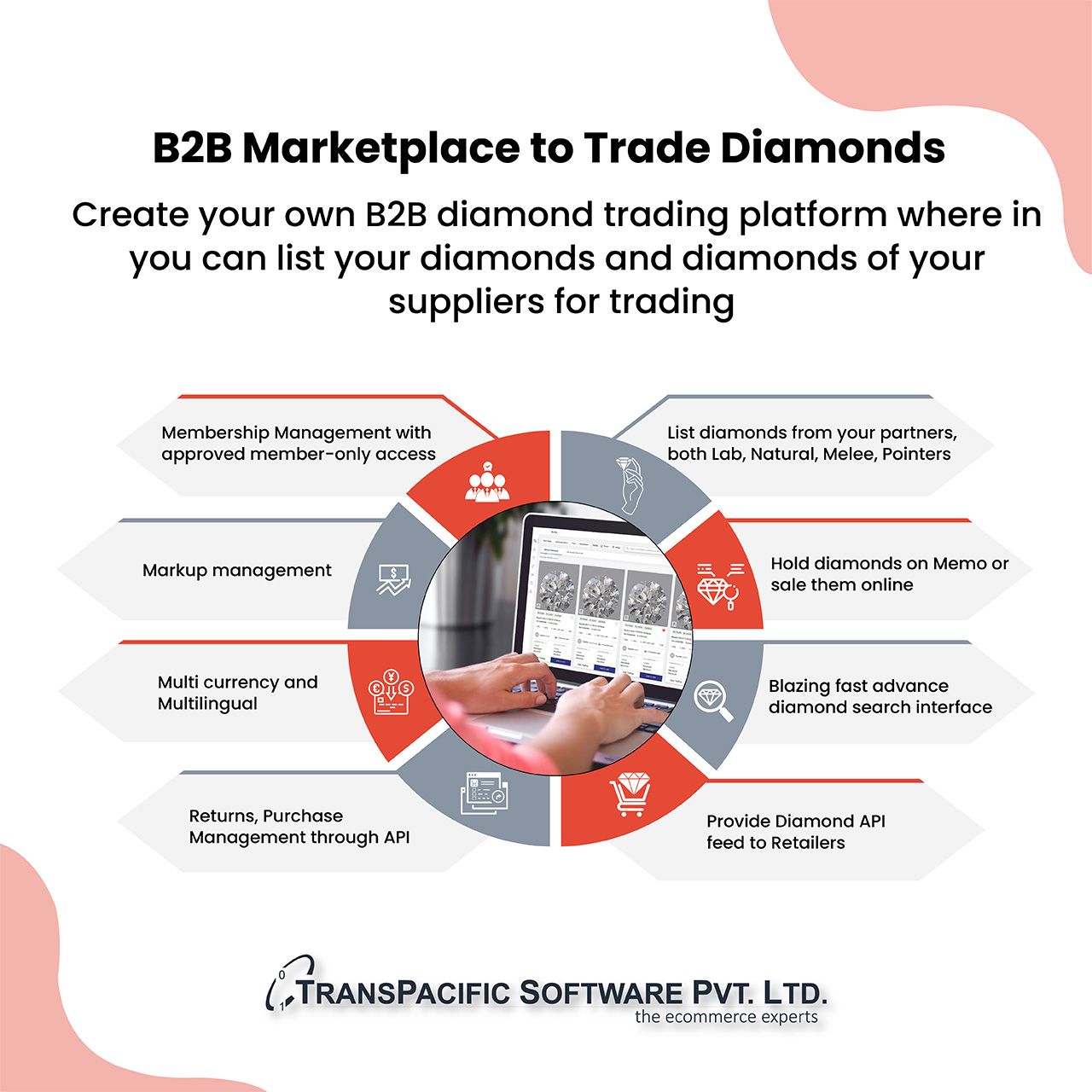 The features of B2B diamond trading websites.
A fast diamond search engine that lets a user search for a diamond based on multiple criteria, such as Shape, Carat, Price, Cut, etc.
The ability to add diamond photographs, video, and diamond measurement with a direct link to Lab hosted certification.
Subscribers can purchase a diamond online or send an enquiry.
Ability to hold the diamond on Memo
Ability to return the diamond to stock in case of Returns
Automatic reminder if the diamond on memo exceeds its stipulated time
Member management with member subscriber classification under different categories like prime , Gold members etc
B2B subscription Management features
A registration process where a B2B diamond retailer can be asked for trade-related information and references on the registration form.
Site admin can approve or disapprove the membership request or ask for the additional info
On Approval the subscriber can trade diamond .
Can add the diamond on memo for 7-15-30 days and further can be returned or sold
Subscriber management for the B2B site admin
Hide products and categories based on user roles.eg. certain user can have access to only diamond module and others only Ready to wear jewellery
Hide prices and add to cart button
Hide for guest users, specific user roles, or specific products & categories
Set tiered pricing based on membership type which can be allotted by the website admin for example, certain users will see most discounted prices and others regular wholesale prices
Multi-currency
Add customer-specific pricing
Display prices inclusive or exclusive of taxes based on user roles.
Restrict shipping methods by user roles
Restrict payment methods by user roles
Restrict order amount and quantity based on user roles and customers
Multi-lingual
Creating APIs for retailer consumption
TransPacific Software also create Restful or GraphQL API for retailer consumption. That means a diamond manufacturer to wholesaler can supply the diamond API feed to a retailer or for their websites