Integrating Lab-Grown Diamond API: Unlocking a World of Sustainable Brilliance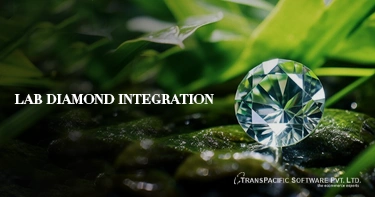 Ten years back when we started specialising in Jewelry website development there was hardly any enquiry for Lab diamond API integration. But in last two years the enquiries to add Lab diamond API has increased exponentially
As of now TransPacific Software has integrated APIs of more then 25 leading Lab diamond manufactures into multiple jewellery websites. on Magnto ,Woocommerce , Shopify and OpenCart Platforms
When we look at sales figures of more than 35 jewelry websites under our maintenance . we find Lab diamond sales including Lab diamond studded Ring builder , Pendant builder and Earring builders constitute 60% of the total sales.
As the demand for sustainable and ethical options continues to rise, lab-grown diamonds have emerged as a compelling alternative to mined diamonds. With their identical chemical composition and physical properties, these diamonds offer a socially conscious choice without compromising on beauty or brilliance.
In this blog post, we will explore the integration of Lab-Grown Diamond API into websites, empowering jewelers to showcase and offer a stunning selection of lab-grown diamonds to their customers.
What is Lab-Grown Diamond API?
Lab-Grown Diamond API (Application Programming Interface) is a tool build by a Lab diamond supplier that enables integration of a lab-grown diamond inventory directly into a website or e-commerce platform. It allows jewelers to access real-time information about lab-grown diamond from supplier, including availability, specifications, pricing, and images. By leveraging this API, jewelers can expand their product offerings, enhance customer experience, and tap into the growing demand for sustainable diamonds.
Things you can do with Lab Grown Diamond API
Integrate loose Lab diamonds in your existing website
Offer Lab diamonds as a additional Option for ring builder
Lab diamonds can be add on with Natural diamonds for Pendant and earring builder
Can offer Lab facy colour diamonds
Integrate Lab diamonds directly from suppliers within your B2B website
Create your Lab diamonds only drop ship type website by tie up with Lab diamond suppliers
What Can we do to integrate Lab diamonds within your website
Talk to TransPacific Software via email /WhatsApp
TPS will put you in touch with a few reliable Lab diamond suppliers. Alternatively, you could recommend your own supplier
Once you finalise your account with the supplier, TPS will take over on technical side and do the integration
Based on your ecommerce platform (Shopify , Magento , Woocommerce)..and number of supplier integrations and features required, the cost will be from $950+ (which will be one time cost)
Technical Considerations
Conclusion
Integrating Lab-Grown Diamond API into your website presents an exciting opportunity to expand your product offerings, cater to the growing demand for sustainable options, and enhance the overall customer experience. By leveraging real-time inventory, pricing, and advanced search capabilities, you can empower your customers to explore a dazzling range of lab-grown diamonds with confidence. Embrace the future of sustainable luxury and unlock a world of brilliance for your customers through API integration.