Opencart Development Services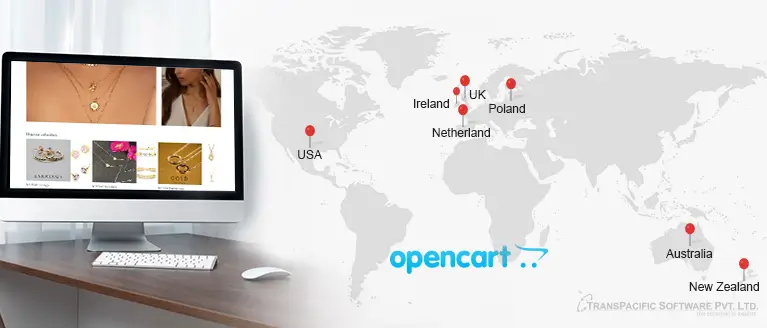 TransPacific Software is developing customized ecommerce websites on OpenCart Platform since 2009 Projects completed around the Globe including UK, USA, Netherland, Poland, Ireland, Australia, New Zealand and in Asia Pacific.
Transpacific's Opencart Development Services Include
OpenCart theme Customization / OpenCart Templates.
OpenCart module customization.
OpenCart payment gateway solutions.
OpenCart Custom Extension Design on VQMOD.
Rapnet integration for Diamond sites.
OpenCart SEO.
OpenCart integration with ebay and Amazon through API.
OpenCart Training and advisory.
OpenCart Module Development.
Hire expert OpenCart Developer / programmer @ $25/hour.
Recently completed Projects on Opencart
Why Transpacific For Opencart?
Working on OpenCart since 2009.
Expert Opencart developers with atleast 5 years experience in php and open source technologies.
More than 30 large projects and numerous modification / extension Projects completed on OpenCart.
Innovative OpenCart Extension GR Rich Snippet developed by TransPacific Software for advance semantic / rich snippets tagging of OpenCart.
shop is successfully running on half a million pages.
Leaders in OpenCart theme customization.
Developed complex extensions in VQMOD to bulk upload product data from XML / CSV format to OpenCart.
Opencart Extension Development
TransPacific Software has Developed two popular extensions to embed Google Rich Snippet data in OpenCart Shops.
The Extensions are currently powering more than a million pages with semantic tags.
Extensions named as GR Rich Snippets products and GR Rich Snippet-Business Entity" use Google recommended GoodRelations ecommerce vocabulary and vocabulary from schema.org.
Google recommended GoodRelations ecommerce vocabulary and vocabulary from schema.org.
Incorporation of these plugins have enhanced SEO ranking and CTR for ecommerce shops.
Rich Pin Enable Your Web Site With Transpacific's Pinterest Rich Pin Extension
What are Rich Pins?
When someone Pins an image or photograph from your site ; a rich pin enabled site also embeds actionable meta information such as availability, price etc within the pin. The same is displayed on Pinterest along with image.
Rich Pins is expected to enhance sales and CTR for ecommerce sites.
Install Rich Pins opencart extension on your site